With the growing of IT industries the overall cost of Development increased due to high rate of quality and experience of the developers, it is becoming hard to hire as an in-house developer.
The trend has become to hire the dedicated developers for a fix time on contract basis which helps to achieve the project on fixed timeline with assurance quality and delivery.
At Rudra Softech we do provide dedicated resources with whom you can direct interact and assign the task and get updates about your project. With having more than 4 years of experience in development, We can assure you for the quality work from our developer.
The benefits of hiring developers from Rudra Softech:
No Startup and Maintenance Cost
Saving up to 40% on your budget.
No long Term Commitment.
Flexible Working hours
Total Project Control
Daily/Weekly work report.
Quality Assurance and On Time Delivery.
100% Confidential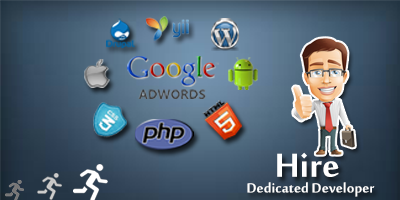 Steps for hiring dedicated developer at Rudra Softech:
Step 1: Defining the scope of work :
Define the scope of document like how much qualified and experienced developer you required for how much time? Also please do send us all your requirement documentation with the technology you want to develop in.
Step 2: Developer selection :
Based on your requirements you can go through the developer' profile and portfolio we provided to you. Choose the right developer for hourly/weekly or monthly full time.
Step 3: Make a Payment :
After choosing a right developer you can pay for the time you want to hire him. You can do payment via Paypal, Wiretransfer or Western Union which is suitable. Once we get the confirmation of the payment from very next hour the you can start working with developer by assigning your project.